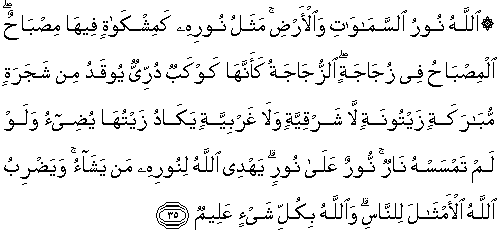 Allah is the Light of the heavens and the earth. The Parable of His Light is as if there were a Niche and within it a Lamp: the Lamp enclosed in Glass: the glass as it were a brilliant star: Lit from a blessed Tree, an Olive, neither of the east nor of the west, whose oil is well-nigh luminous, though fire scarce touched it: Light upon Light! Allah doth guide whom He will to His Light: Allah doth set forth Parables for men: and Allah doth know all things.
It has been a long while ... and MasyaAllah Ustaz Nu'man's syarah on this beautiful verse is most apt to awaken me from the slumber of darkness into the shining light of the brilliant star ...
... Nurun 'ala nur ...
AlhamduLillah ... please take some moments to listen ...
... what's the point of a lamp if it does not light up its surrounding ...
~
Thank you for coming by :)